Gates
The installation of a gate is the most efficient way to maintain access control on your commercial property. At Azi Steel, we are professionals in the design of modern and traditional gates but also assist with intercom systems making it easier to manage traffic.
The design and installation of commercial gates should include little to no maintenance, security, and attractive finishes. Because of our knowledge in designing and erecting various types of wrought iron gates and steel fixtures for our commercial clients, we can handle any sized and creative project requirement.
Durable and Long Lasting
Azi Steel can design and install gates for the interiors and the exteriors of commercial buildings, offices, stores, apartments and more. Our gates are fabricated in materials that can withstand outdoor exposure. You can also choose from our wrought iron gate styles in classic and creative styles. We can produce beautifully crafted ornamental design that makes for a real conversation piece and positive customer impressions.
Sliding Gates
Swing Gates
Pedestrian Portals
Vertical Lift Gates
Vertical Pivot Gates
Bi-Folding Gates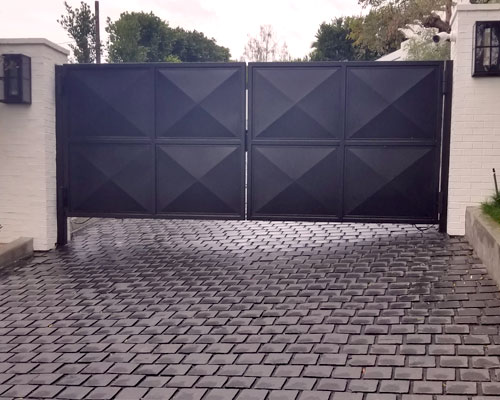 Easy to Maintain
Every commercial property can benefit from gate installation that is easy to maintain. At Azi Steel, we guarantee the quality of our workmanship but also provide a guarantee across the materials used in construction.
Value
For apartment buildings, stores, or businesses, we offer the most valuable gate installations. Our gates are designed to last so you have peace of mind that you will not have to replace new gates for some time.
Repairs and Replacement
If you have a gate in need of repair and replacement, please contact our members at Axi Steel. Gates, especially wood, can become weather-beaten and simply worn over time. To renew and refresh your property, we can install wrought iron gates and steel gates to your satisfaction.