Stainless Steel Cable Railing
The stainless steel cable rail is one of the most popular additions for railings, decks, stairs, balconies, and balustrades. The strong and sturdy material is the best addition to secure areas such as staircases but also creates a sleek and modern appeal for the finish of your home.
The stainless steel cable railing system is a tough and sophisticated addition to any residential property. At Azi Steel, we are proud to provide our unmatched craftsmanship and expertise in designing and installing your stainless-steel cable rail.
We Fabricate Stainless Steel Cable Railing
At azi Steel we believe that every design and manufacture should undergo the stringent process.
We fabricate stainless steel cable railing at our in-house facility using state-of-the-art equipment.
Our craftsmen will carefully select the grade and type of stainless steel to produce a cable railing system that is as durable as it is attractive.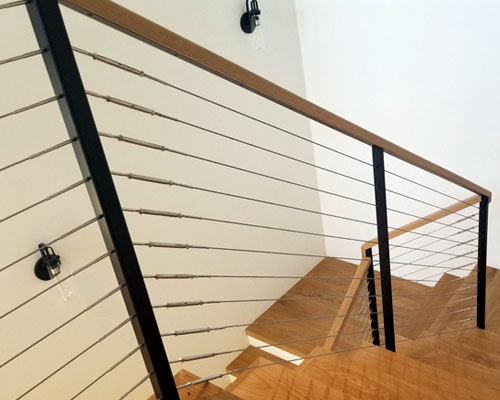 We Believe in Passing Value Onto Our Loyal Customers
As we have been in the industry for many years, we understand pricing and how to detect the best value. Simply speak to our dedicated team, and we will provide a fully custom quote based on your building needs.
Creative Design
The stainless steel cable rail is a versatile product. It can be bent, twisted, and styled into various shapes and provides incredible reinforcement of staircases, balconies, and similar areas requiring security.
For Stainless Steel Cable Railing, please contact us today!