Iron Gates & Fences
Did you know that wrought iron is one of the most commonly used decorative materials for gates, fences, panels, and more? Our experience in Canoga, Los Angeles spans over more than a decade and includes iron fences, iron doors, handrails & ornamental design. You simply need to view our past iron gate and iron fence projects to determine our quality of workmanship and our fine attention to detail.
Investing in an Iron Fence or Gate
The iron fence is one of the most striking additions to the residence. Primarily installed as a feature, it is also the toughest metal that can withstand extremes in weather conditions without tarnishing or losing its shape.
Your home deserves the ultimate protection, and at Azi Steel, we believe that wrought iron is an incredible metal that can be designed into beautiful spirals, shapes, and traditional styles suited to any theme.
An iron fence and iron gate are investments for the residential property. At Azi Steel, we are experts in working with wrought iron material, and we go the extra mile to ensure that every fence or gate is made with the highest quality standards.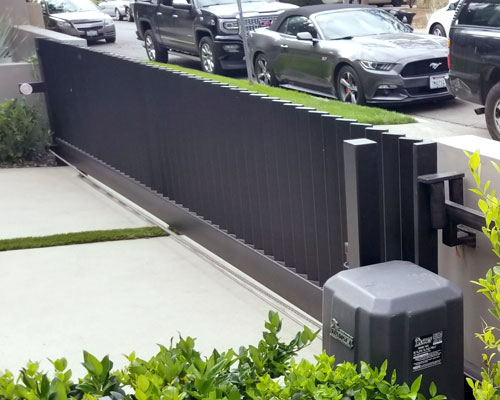 We Create Fully Custom Gates and Fences
Our iron fence is handcrafted by our experienced and skilled welders. We take every care to ensure that we develop a sturdy and durable range of gates and fences and custom features to best compliment your home.
We design iron gates in swing, sliding, motorized and with an intercom system. We meet your security and design requirements with iron fence and gate manufacture that is most compatible with your property style and personal preferences.
Contact us for a custom quote and one-of-a-kind wrought iron gate and fence structures.