Steel Stairs
Steel is a unique material when incorporated in residential interior design. It is durable yet lightweight and creates a sleek, sophisticated finish. When combined with wood features, it adds warmth making for an exceptional modification.
We create elegant floating steel stairs, single, stringer, and double stringer staircases that appear to be floating with finely crafted finishes.
The Benefits of Structural Steel Stairs
Structural Steel has remained a top choice in construction because of its immense value and longevity. It is also designed to bear weight, able to flex to accommodate structures.
Durable
A structural steel staircase for the residence provides a sturdy and robust design. Railings along staircases should always be built with durability in mind. At Azi Steel, we are experts in steel staircases, railings, and more because we trust the strength and the longevity of this material. Having worked in steel fabrication, erection, and various welding projects, we understand how to maximize its features while managing cost.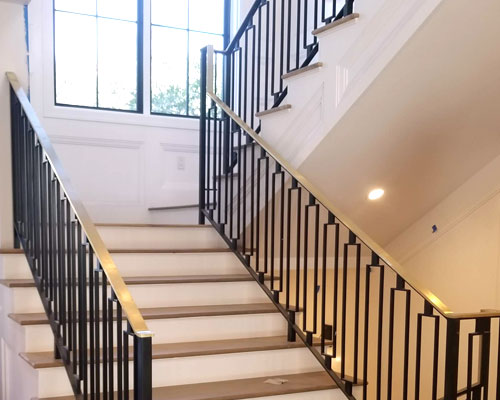 Economical
Not only is Steel a durable material but a cost-effective choice too. It is considered one of the most economical of construction materials. As fabricators and installers of structural steels, you can rest assured that you are receiving the most competitive and valuable prices across California.
Appealing
More homeowners are incorporating steel stairs, railings, and handrails because of its attractive finish. Steel is contemporary, it is sleek, and it is certainly a statement piece when incorporated in and around the home.
Please speak to us for modern and precision residential steel stairs.
Along with the flexibility and the durability of Steel comes its beauty. By combining its function with its aesthetics, it can be used as balustrades, railings, and steel stairs. If you consider steel stairs in Los Angeles County, speak to Azi Steel for the perfect design, fabrication, and installation services.